Support Environmental Education
Since its founding in 1970, the Lemberg Children's Center has supported Brandeis University's educational mission as a provider of services to families and the field of early education.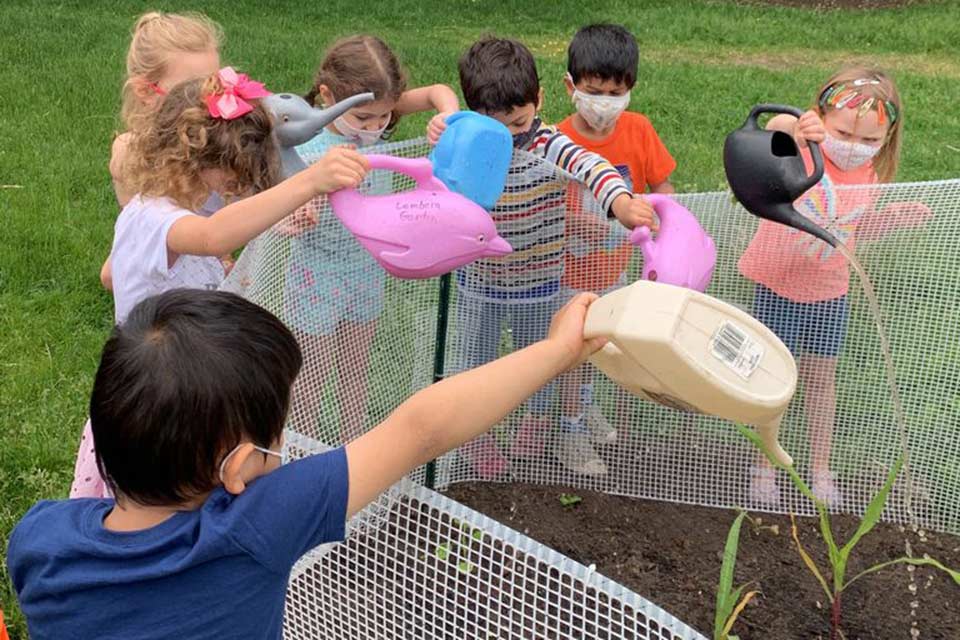 We moved to our current expanded facility in 2014, which allows us to serve 74 children and to implement environmental education programs that are essential to children's development. On our wonderful acre of open space, we've built the Firefly Scientists' Community Garden and Playground, a unique blend of gardens and playgrounds. It is a creative, exploratory space for our children and the community to experience nature, organic gardening, nutrition education and connections with each other. In our densely packed urban setting and our technology-crowded lives, watching a sprouting seed, searching for wildlife in our Fairy Woods and time with our environmental leaders to explore the life cycle of a worm provide moments of peace, wonder, meaning and joy.
The Firefly Scientists' Community Garden and Playground was inspired by the vision of Executive Director Howard Baker, and designed with the leadership of expert environmental educators and gardeners.
Thanks to generous donations, in just a few years, we've transformed a barren hillside into a food forest with 20 fruit trees, kiwi and grape vines, berries, vegetables and herb gardens. The adjoining two playgrounds integrate trees and garden boxes with swings, climbers, playhouses, slides, climbing features, sandboxes and outdoor classroom space. We have 11 raised beds, 5 of which are wheelchair accessible, more than 1,000 square feet of in-ground vegetable garden, a greenhouse installed by a Brandeis University volunteer student group and a wooded area. Each year, we expand our food production and improve the soil with organic, regenerative methods.
Help Fund Our 5-year Expansion Plan
The Firefly Scientists' Community Garden and Playground is funded by generous donations from families, foundations and corporations who value stewardship of the land and care about protecting children's bond with the natural world. To accomplish our 5-year expansion plan, we are seeking $50,000 per year for 5 years. Please help us provide these vital experiences for children, families and our community.
We hope you'll join our effort to expand our impact and preserve an extraordinary place for our children and Waltham area families.
What Your Donation Supports
Salary for expert environmental educators and gardeners who manage operations and create vibrant education programs

College interns' environmental education training
Expansion of our food cultivation area and edible plantings in the playground
Community gardening and food education programs for local families and special needs adults
Collaboration with urban farmers and local organizations to increase food production and distribution
An outdoor sink for washing hands and produce before eating in the garden
Infrastructure upgrades to ensure longevity and safety of our space
Development of shareable environmental education curriculum
Your generosity will inspire children and adults to care about healthy living, the wisdom of nature and a sustainable future.
Funding History
Since 2014, we have raised $375,000 for the build-out of the integrated playground and garden spaces, $175,000 from the Firefly Scientists' Foundation and $200,000 from many other donors. This startup funding also provided operational funds and salaries for our environmental educators, gardeners and interns for three years.